Click on these links for a "hot lap" of the TZ350 and 250 Website:
Click on the links below to read each review:
---
Motorcycle Handling and Chassis Design, the art and science
By Tony Foale.
Until recently, Tony Foale's original book "Motorcycle Chassis Design" ( co-written with the late Vic Willoughby ), has been regarded as somewhat of an industry standard in the field of motorcycling handling and chassis construction.
Tony's latest offering " Motorcycle Handling and Chassis Design, the art and science" has "raised the bar" and takes the reader to new levels of knowledge and education on the subject.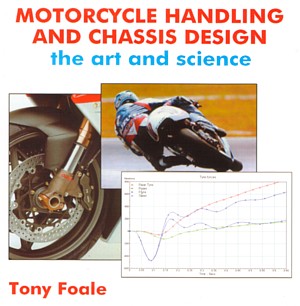 Thankfully, the author has chosen to pursue a more diagrammatic explanation of a lot of the theory involved, rather than clutter the book with too much hard to understand ( and sometimes boring ) mathematics.
This book is no light reading handbook, it's actually quite an intense study of all the factors and physical forces in action during the motion of a motorcycle, though it's certainly not beyond the average technically minded enthusiast.
Contents include:
Foreword by Kevin Cameron
Function and history
Tyres
Geometric considerations
Balance and steering
Aerodynamics
Suspension Principals
Front Suspension
Rear Suspension
Dive and Squat
Structural
Engine Mounting
Brakes and braking
Materials
Stability
Performance aspects
Practical frame building
Case study
Future trends and possibilities
Appendices including : Rake angle experiments, Glossary of terms, Maths/basic mechanics of motorcycles, Gyroscopic tutorial, Unit conversions, Mechanisms, CoG and mass distribution of rider, Typical data from production bikes.
Fully understanding the wealth of information contained in the book requires a basic understanding of the laws of physics and trigonometry, though appendices in the back help those, like me, who haven't studied these subjects in any depth for many years, to refresh their memories and brush up a little on the basics and the way in which they apply to bikes.
We should bear in mind that as Tony suggests in Appendix 5, if you find the trigonometry side of things a little daunting then just skip the mathematics and gain your understanding from the main body of the text. There are around 450 illustrations and diagrams to help clarify the subjects dealt with in the book.
"Motorcycle Handling and Chassis Design, the art and science" is available in both normal book and CD forms.
My copy is in the CD form and while this would I imagine be handy for team engineers to carry around and quickly refer to anywhere in the world on a PC, I found it a bit slow and I must say slightly annoying having to constantly use my mouse to flick between pages and scroll down to the information I was looking for.
The book version would be far better in this regard, but I guess it just comes down to personal preference, that and price, with the book (at the time of review) costing 71 Euros plus shipping, and the CD just 50 Euros including shipping. There is also a special package deal available where you get both the book and CD for just 83 Euros. Definitely money well spent whichever way you choose to go.
In summary, this 500 plus page book is nothing short of amazing, being jam packed with just about everything you'd ever need to know about why a motorcycle handles the way it does and an overview of the way in which chassis are designed and built.
As I said before, it's no light reading handbook and to be honest I had to read a lot of the sections over a few times to comprehend what Tony was on about, ( being from a non-university background myself. ) But in the end it made sense to me, there's a hell of a lot of knowledge contained within and the CD will always be there in the future as a reference source when required.
Paying 50 Euros for his book (in CD form) is the cheapest way I know of to gain this level of knowledge on motorcycle chassis design and handling. Tony Foale has put in the "hard yards" over the years, experimenting, constructing, testing and learning. Here's the best way for the rest of us to take advantage of all those years of hard work and reap the benefits of experience gained by him.
This book is well worth buying, it really is that good.
"Motorcycle Handling and Chassis Design, the art and science" is available direct from the author, Tony Foale via. e-mail at: book@tonyfoale.com
Also available from an Australian source at http://www.amcmotorcycles.com/

Check out the Tony Foale website at: http://www.tonyfoale.com for additional information.
---
"The Privateer" by Jon Ekerold.
So, you're into old TZ's ( or any other old 2 stroke roadracer from the 70's ) and enjoy reading about them and their riders during the era ? You need this book. Period.
For the first time in years I have just sat down and read a book cover to cover without stopping. Jon Ekerold's truly brilliant book about his motorcycle racing history as a GP Privateer had me riveted to my sofa, it is quite simply enthralling, I could not put the thing down !!
On offer here is a "no holds barred" account of Jon's riding and racing history, from the time he began riding at age 17 on a 50cc Honda and recording his first race win on the same bike less than a year later, to a lap by lap story of his 1980 World 350cc Championship winning final race at the Nurburgring.
The book is jam packed with highly entertaining anecdotes, some very funny, some quite sad, others simply amazing. From his encounter with a baboon troop on a country jog one evening, to his relationship with the late great Tom Herron, to Jon's exploits in trying to get GP promoters to give him a start and the highs and lows he experienced both financially and emotionally while part of the GP "circus". It's all there.
But best of all from a TZ owner's perspective is the intimate look at racing Yamaha TZ's and later Bimota TZ's in this golden era of motorcycle competition. Jon gives us and his thoughts about some of the famous names involved in motorsport at the time and the false image they portrayed (according to Jon) in the eye of the fickle media. He certainly doesn't hold back at all in letting us know exactly what he thought of these people at the time, and one can definitely sense a bitter disappointment there that despite racing and winning at World Championship level, he was never offered factory support of any kind, due mainly it appears, to the fact that he is South African, and this was at a time when "apartheid" was at it's peak and the focus of world attention. The riding ability was unquestionably there, the right passport was not.
The book was written by Jon alone, without the aid of a "ghost writer" and is simply brilliant and a "must have" for any motorcyclist's collection. It has been printed in a limited edition 4000 copy run with proceeds going to the South African Aids fund, a very worthy cause indeed. The African continent is said to have the highest concentration of HIV Positive people in the world. Jon is doing his little bit to combat it and improve the lives of sufferers of this terrible disease.
Jon Ekerold, I take my hat off to you mate.
The limited edition book is on sale for 25 Euros plus 10 Euros postage and is only available direct from Jon at : jonekerold@aol.com .
---
"The Privateer" by Jon Ekerold. a short review by Andrew Hyett
Andrew wrote:
"It is certainly one of the most informative, most enjoyable and best written motorcycle racing biographies I have read. Michael Scott's preface is totally accurate. Ekerold tells the story clearly, directly and with a wonderful dry sense of humour. As a writer, I think Jon challenges Ted Macauley and I really hope he follows this book with others."
---
Email the Webmaster
03/23/08 07:14 AM +1000
These reviews and website © Greg Bennett 2002.
"Motorcycle Handling and Chassis Design" CD cover images © Tony Foale
"Jon Ekerold, The Privateer" bookcover image © Jon Ekerold and Text&Technik Verlag