Click on these links for a "hot lap" of the TZ350 and 250 Website:
The TZ350.
---
The incredible TZ350, a brief history.

1973 saw the introduction of the bike which was about to transform the 350cc GP class worldwide, the incredible TZ350A. The inclusion of water-cooling in addition to other slight improvements over the bike's air cooled predecessors, the TR2, TR2B and TR3, saw Yamaha's 350cc production offering fast becoming an almost unbeatable weapon in the hands of the right rider. Internally the motor hadn't changed much from the TR3 apart from the widths and angles of the transfers being altered to improve scavenging, though actual port timing remained as it was with the older model. Also the silicon content of the cylinder was lower compared to that of the TR3's separate hypereutectic units. The new bike produced a very respectable 60bhp @9,500rpm.
Interestingly, there was no variable advance built into the Hitachi TIA02-01 CDI controller used on the 350. Whatever ignition advance the tuner set was the advance right through the rev range. ( This was not the case with the TZ 250 ).
In 1974, the "B" model was released, with very few changes to the previous "A". As if this wasn't frustrating enough, TZ racers had to sit out 1975, waiting until the next year for a new version. The wait was worth it....
The "C" model, of 1976 was another matter entirely. Here was a radical departure chassis and running gear wise from the earlier TZ's. Adjustable "mono-shock" (spring preload and rebound damping only) rear suspension, combined with twin piston front and rear disk brakes set the world on fire, with the new bikes selling like hot-cakes from Yamaha dealers worldwide. The retail price of around £ 1,550 including a comprehensive spares kit was incredible value for money and did no harm at all to sales. The clutch basket "boss" was improved by changing it's method of attachment to a male / female spline system from the previous model's "dog" type. The exhaust header picked up an additional o-ring and a new mounting system. Power jumped up slightly to 62bhp @ 10,000rpm.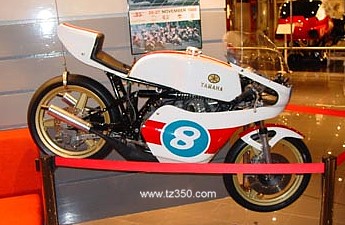 Picture: What is essentially a TZ350E on display in the Macau Museum. This bike has an F model top end, Lockheed calipers and magnesium wheels. It also has the gear shift foot lever fitted to the right hand side of the bike indicating that possibly a British rider may have raced it at Macau. (Photo provided by the Macau Museum.)
The "D" and "E" models of the next two years were a little disappointing from the "punter's" point of view due to the fact that very little was altered at the factory from the "C".
Minor porting, piston and exhaust upgrades saw the peak horsepower output up by 2 to reach a claimed 64bhp @10,500rpm. The factory also chose to fit an offset, angled plug head with the "D", in an effort to combat cylinder and piston distortion as well as slightly raising the compression ratio. New expansion chambers were now fitted from the factory with removable silencers. Small changes were also made to items like the base gasket, crank webs, small end bearings, the gasket for the side oil draining bolt on the gearbox, carby floats and choke systems etc. Tyre widths were also increased from the factory though rim sizes remained as per the previous model.
Not to say that the TZ350 became uncompetitive with the introduction of the "D", quite the contrary, with customer bikes winning 350cc races and domestic championships across the non-USA world from 1977 through 1978. (America didn't run a 350cc class but allowed 350cc bikes to run in other larger capacity classes.)
The "E" had a new frame which some say re-positioned the engine slightly more forward featuring detachable alloy engine plates and around 20 other additional bolts, nuts, washers etc. as well. The swing-arm length remained as for the "D" as did just about everything else apart from the rear lower engine mounting bolt which was lengthened by 5mm. .
(Picture courtesy of Mitsuo in Japan.)
The introduction of the "F" model in 1979 saw, finally, effective and much anticipated improvements to the now 3 year old TZ 350 C/D/E. Much to the relief of Yamaha devotees, the factory made several changes to the bike, some advantageous, in time owners learnt others were not. They included:
a) The provision of a new "6 port" cylinder, with subsequent improvement in rideability, with an improvement in peak power output to boot. Also new "cross-over" style chambers to keep the muffler tips within FIM requirements length wise and a new piston. The "F" pistons were the first of the short pin "slipper" type but the side windows didnít have the support web running down the middle, and the ring sometimes pulled the edge of the piston down into the window.
b) A new conrod, which was lighter, but turned out to be prone to failure ( due mainly legend has it, to the wrong silicon content in the pistons causing them to wear and deposit aluminium on the small end bearings causing them to fail and take the conrod with them ), plus a new "3G3" piston to suit the new cylinder.
c) The inclusion of 38mm "Powerjet" Mikuni carburettors to further enhance the new engine's usability through the ability to fine-tune the midrange mixture more effectively and also reduce the risk of seizure at high rpm, while actually contributing to the increase in peak output at the same time.
d) A new, revised, lighter weight frame, which had a bad tendency to fail around the headstock, which is why so many of them were re-inforced in this area, or had aftermarket frames replacing the Yamaha items. (Click here to read about aftermarket TZ frames.)
e) A new box-section aluminium swingarm, aluminium body rear shock (still with adjustable preload and rebound damping only).
f) New forks featuring 3-way adjustable spring preload via. an external adjuster on top of each fork tube, as well as revised fork internals designed to reduce the front end "patter" being experienced by a number of 350 riders.
g) A new fairing which dispensed with the separate belly pan and was a sharper shape at the bottom-front (behind the front wheel). The fuel tank was now a tapered shape to match the sloping upper frame rails and the seat unit was changed to a more "current" shape.
h) Minor changes included: the cylinder drain pipe, inner main bearing circlip/washer, gudgeon pins, introduction of an oil level "dipstick" and new ignition pulser coils, exhaust mounts, clutch cover and an additional o-ring was included in the exhaust header to assist sealing.
Frame failures around the headstock area were a common problem with the "F" model 350's, for this reason a large number of owners chose to ditch the stock frames and replace them with units made by such manufacturers as Nikko Bakker, Bimota, Spondon, Maxton, etc. Others chose to reinforce the stocker with additional bracing such as that shown in the photo.
1980's TZ350 G was virtually the same as the previous "F" apart from another attempt at improving the conrod, reverting back to the older "E" inner main bearing circlip/washers, a revised piston silicon content as well as strengthening in the sides of the piston, and a different "dipstick". Another change was the way the ignition rotor was bolted on to the crankshaft. The timing side crank wheel had an external thread and nut, where the earlier models had the standard 7mm internal thread.
Picture: A fine example of a TZ350G from Joris van de Wiele.
The 350 "G" was never really improved on, despite Yamaha releasing another model, the "H", which was really just a case of the factory using up a lot of it's stock of parts, giving up further production of the mighty TZ350 once the FIM dropped the 350cc World Championship class in 1982.
TZ 350
Specifications
MODEL
TZ 350 A
TZ 350 B
TZ350 C
TZ350 D
TZ 350 E
TZ350 F
TZ 350 G
TZ 350 H
Year
1973
1974
1976
1977
1978
1979
1980
1981
Model Code from
R5 / 383-990101
R5 / 383-990101
R5 / 383-992001
R5 / 383-993001
R5 / 383994101
R5 / 383-997001
R5 / 997504
Bore (mm)
64
64
64
64
64
64
64
64
Stroke (mm)
54
54
54
54
54
54
54
54
Capacity (cc)
347
347
347
347
347
347
347
347
Compression ratio
7.04
7.4
7.4
7.5
7.5
6.9
6.9
6.9
bhp
60
60
62
64
64
72
72
72
@ rpm
9,500
9,500
10,000
10,500
10,500
11,000
11,000
11,000
Ignition type
CDI
CDI
CDI
CDI
CDI
CDI
CDI
CDI
Timing (mm btdc)
2
2
2
2
2
2
2
2
Carburettor
Mikuni VM34SC
Mikuni VM34SC
Mikuni VM34SC
Mikuni VM34SC
Mikuni VM34SC
Mikuni VM38SS
Mikuni VM38SS
Mikuni VM38SS
Primary Drive
2.96
2.96
2.96
2.96
2.96
2.96
2.96
2.96
Final Drive
34 / 16
34 / 16
34 / 16
34 / 16
34 / 16
34 / 16
34 / 16
34 / 16
6th gear ratio
0.81
0.81
0.81
0.81
0.81
0.81
0.81
0.81
5th gear ratio
0.87
0.87
0.87
0.87
0.87
0.87
0.87
0.87
4th gear ratio
0.96
0.96
0.96
0.96
0.96
0.96
0.96
0.96
3rd gear ratio
1.13
1.13
1.13
1.13
1.13
1.13
1.13
1.13
2nd gear ratio
1.42
1.42
1.42
1.42
1.42
1.42
1.42
1.42
1st gear ratio
1.93
1.93
1.93
1.93
1.93
1.93
1.93
1.93
Over-all top gear ratio
5.1
5.1
5.1
5.1
5.1
5.1
5.1
5.1
Fuel capacity
23
23
23.5
23
23
23
23
23
Gearbox oil capacity
1,600 cc
1,600 cc
1,700 cc
1,700 cc
1,700 cc
1,700 cc
1,700 cc
1,700cc
Front tyre
2.75" x 18"
2.75" x 18"
3.0" x 18"
3.0" x 18"
3.0" x 18"
3.0" x 18"
3.0" x 18"
3.0" x 18"
Rear tyre
3.0" x 18"
3.0" x 18"
3.0" x 18"
3.0" x 18"
3.0" x 18"
3.5" x 18"
3.5" x 18"
3.5" x 18"
Front brake
2 x Twin L-Shoe
2 x Twin L-Shoe
Disc
Disc
Disc
Disc
Disc
Disc
Rear brake
1 x Single L-Shoe
1 x Single L-Shoe
Disc
Disc
Disc
Disc
Disc
Disc
Rear suspension
Twin Shock
Twin Shock
Mono-shock
Mono-shock
Mono-shock
Mono-shock
Mono-shock
Mono-shock
Wheelbase (mm)
1,331
1,331
1,316
1,316
1,316
1,321
1,321
1,321
Width (mm)
510
510
630
630
630
635
635
635
Length (mm)
1,946
1,946
1,935
1,935
1,935
1,935
1,935
1,950
Rake (degrees)
27.5
27.5
27.5
27.5
27.5
Trail (mm)
90
90
75
75
75
92
92
92
Dry weight
115
115
118
118
118
109
109
109
If you see anything above that you know to be in-accurate, or you have something to add, by all means let us know. We're only too happy to receive advice and information on the bikes to enhance the site. Simply Email the Webmaster with the details.
Click on this link to read an article written in the late 80's about buying and running a 2nd hand TZ350.
---
TZ350 Aftermarket frames.
A number of chassis manufacturers made frames for the TZ350 throughout the seventies, click here to read about TZ aftermarket frames.
( This special frames page has been available to "Members" since early January 2004.)
---
Click on these thumbnails to read an article written in 1973 on the newly released TZ350:
Please note: The article is taken from the now defunct "Cycle" magazine. We have no idea who the author was or who actually owns copyright to it and had to buy the article from an American company that deals in old brochures and articles.
---
The diagram shown is a "port map" of the TZ350 F/G 6 port cylinder reproduced with the kind permission of Ed Erlenbach, .........thanks Ed !!
This one is of an earlier, 4 port cylinder, once again courtesy of Ed..
( Click on the thumbnails to enlarge )
---
Looking for pistons for your TZ350?
Check out the quality aftermarket Italian made pistons available from EMOT Racing !! Click Here for a review.
---
Amazing TZ History and restoration manuals on CD !
Mick Stokes (MarlboroMick) has compiled a set of manuals on TZs that are simply amazing in their scope and information.
Described as: "An in-depth look at the detail and development of the world's most popular and successful 'over the counter' roadracing machines".
These are a "must have" for TZHeads. You will not be disappointed!
---
Email the Webmaster
01/07/13 03:46 PM +1000
This website © Greg Bennett 2002.