Click on these links for a "hot lap" of the TZ350 and 250 Website:
---
Gone but never forgotten.
(In memory of TZ racers who are no longer with us.)
This page has been set up to remember those TZ racers who passed away and are fondly missed by those of us who knew them. It's like a "Members Post Mortem" list if you like.
We will concentrate mainly on the riders who have not had books written about them, so there will be a number of famous names you might have expected to be in such a list missing.
Did you have a friend or relative who rode a TD, TR, TA or TZ Yamaha who is no longer around? Do you think they would have enjoyed this website? Maybe you'd like to have them included here as a way of honouring them.
At the same time, we have taken the liberty of including the majority of these riders without the permission of their surviving family members due simply to the fact that we have no way of contacting them to seek permission. If any relative of any of the riders listed below wishes them to be removed from the list please Email the Webmaster and this will be done immediately, no questions asked.
The information about some is a bit lacking, we have had to rely on other people's recollections for most, so if you have anything to add or dispute by all means Email the Webmaster with details. Some people's recollections differ to others so we have attempted to be as diplomatic about the different opinions as possible! Some have no portrait type photos, please send a photo if you have one that shows the rider's face.
---
The "Roll of Honour".
---
Henk Lodder was a Dutch TD / TR / TZ racer from the seventies. He was a remarkable man and very successful racer, winning, among other things, the Dutch 350cc Championship in 1972. He continued racing through to 1977 when he was tragically killed while racing in Holland.
His nephew, John Valster provided a great number of photos of the late Henk and looking at the ones where you can see his face, one can tell that he was a happy-go-lucky sort of guy since he is smiling in almost every one of them !
---
Kenny Blake was a rising Australian star in the seventies. He rode a multitude of different bikes including TA, TD, TR and TZ Yamahas throughout his career and won numerous Australian titles over the years before his death. Kenny actually beat Giacomo Agostini in the Australian TT at Laverton Airbase in 1976 and, after competing in the World Championships for a while, was tragically killed at the Isle of Man in the Senior TT in 1981.
Picture courtesy of Phil Hall.
Check out Phil Halls' Kenny Blake Memorial website at: http://www.kennyblake.com.au
---
Phil Haslam from England died after striking the steel frame of a bridge on his Pharoah Yamaha TZ250 at Olivers Mount, Scarborough in June 1974. His bike spluttered and cut out as he attempted to accelerate uphill out of 'Mere Hairpin'. Phil raised his left arm to indicate he was stopping and he was about 3 feet from the track's edge as his handlebar was clipped by Derek Chatterton, sending Phil towards the other side of the track and directly into the path of Steve Machin who hit Phil and went right over the top of he and his stricken machine. Tragically Phil suffered very serious neck injuries and died trackside due to heavy loss of blood though the combination of the sun in his eyes, the track surface, and the large field all fighting for the limited space available would have attributed to his death also.
Thanks go to Graham Etheridge for this clipping of Phil.
This shot of Phil with Roger Marshal and Phil Gurner is form 1974 and was provided by Pete Stott. (Graham Etheridge took the photo originally, thanks Graham!)
---
Pete McKinley rode very competitively for Padgetts Yamaha on TZ250's, 350's and 750's in the seventies and died in a most bizarre manner when his false teeth became lodged in his throat and choked him during he final practice session at the 1975 TT on his Padgett's TZ750 a few miles before Ballaugh Bridge, at around 130mph. Pete was thrown over a tall hedge into a field. Truly tragic.
( Does anyone have a shot of Pete we can use here?)
---
Steve Machin of Machin frames (his brother Jack made the frames) fame was sadly killed in 1974 after Easter at Cadwell Park circuit in Lincolnshire while testing a TD2. The bike had previously been ridden by Tony Dawson at the Southern 100 on the Isle of Man. The TD2 engine belonged Steve, and the frame belonged to Tony.
Its gearbox seized when flat out on the back straight just before Park Corner, and he was flung off. The critically injured Steve was taken to Louth County Hospital by ambulance.
Thanks go to Steve's widow, June (Machin) Sutherland for the updated information.
---
Norman Tricoglus was from Northern East England and actually spent time in prison for a crime he was later acquitted of! After a spell in the USA, he returned in 1972 with a new TD3 and set about carving a reputation as a very hard rider. He died in the final practice session for the Manx Grand Prix on Saturday 3rd September 1977, aged just 25, after crashing at Rhencullen.
( Does anyone have a shot of Norm showing his face?)
---
Piers Forrester was actually Equerry to the Queen and moved in high society circles, socialising often with his great mate Barry Sheene. The pair of them had a real "party hard" reputation and by all accounts and had a fantastic time living up to it! Piers was multi-talented and actually did a bit of car racing, including co-driving a GT40 in the 1970 Daytona 24hr (see picture ). He came 3rd in the Northwest 200 in 1977 and received best newcomer award, an achievement he (understandably!) was very proud of.
He died on 30th October 1977, while riding in a BRC Formula 750 race at Brands Hatch. Sitting in fifth place after having obtained the fastest time in practice, he ran wide in Clearways/Clark Curve on lap 4 and slid off. There were insufficient straw bales on this section of the track, and he ran onto the grass and high-sided, colliding with the Armco Barrier at a speed of around 120 mph. Mark Barker (his mechanic and close friend) ran across the track and found him still conscious but very seriously injured. The ambulance men reached him quickly, but sadly Piers could not survive his severe internal injuries, and was declared dead on arrival to hospital. The race was immediately stopped after the accident.
Picture: Piers at Le Mans in 1969 (Photo courtesy of Barrie Smith) ....NB: It is not confirmed that the person in the photo is definately Piers Forrester.
(Additional information by Mark Barker)
---
John Newbold was described as a very smooth, safe rider and was just about unbeatable on a 250 or 350 Yamaha. He died in 1982 in the Northwest 200 riding a Suzuki for GB after running into the back of Mick Grant at the high-speed Juniper Hill corner (now a chicane) and hitting a lamp post - Tom Herron was killed three years earlier hitting a lamp post just four posts past the one that John had struck in 1982.

(Thanks Ivor for additional information)
---
Les Kenny really made a name for himself in Australian roadracing between 1972 and 1976 consistently winning or placing in major events across the country. Les finished 10th in the 1975 IOM Senior TT and was tragically killed the next year in the same event when his Yamaha seized just four miles from the start of the last IOM TT to count for the World Championship. He was just 30 years old and the 111th rider to die on the track.
Picture left provided by Chris Baker
Picture right provided by Bruce Ireland
---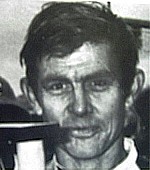 Bryan Hindle came into the limelight of Australian roadracing in a big way in 1970, winning the inaugural Castrol Six Hour at the now defunct Amaroo Park near Sydney. He went on to a very successful career riding Yamahas through the early seventies, including defeating Giacomo Agostini at Sydney's Oran Park when he visited the country, surviving a major crash on his new TZ700 at Bathurst in 1974 and announced his retirement from the sport a few months later. He was tragically killed in a self-made "ultralight" aircraft in 1978.
---
Ron Toombs won an incredible 17 major events at the annual Bathurst races west of Sydney during his illustrious career among other successes in Australia in the late sixties and early seventies. He retired from racing in 1975, then made a comeback at the age of 46 at his favourite track, Mt. Panorama Bathurst, running comfortably in 8th place on his TZ350F until injuries sustained when crashing into a tree claimed his life.
---
Randy Renfrow raced TZ's as far back as 1980, scoring his first AMA National points in the 250GP class in 1981, then winning the first of 17 AMA titles in various classes in 1983. This very popular rider was recovering from injuries sustained at Daytona in 2002 and sadly died as a result of falling down the stairs at his parents home during his recovery period.
---
Glen Montgomery was one of the Webmaster's best mates for a number of years, competing in the Forgotten Era 500cc class here in Australia during 1998 and going on innumerable road rides together around our local area and for a few extended trips as well.
He was an exceptional rider who out-rode many local "hotshots" on their 1100cc Sportsbikes riding his humble RF600 on the road. Glen died as a result of injuries received in an accident on the road with another bike rider who ran head on into him on his favourite "practice track" of all, Macquarie Pass. The accident was no fault of his own and he was placed on life support with critical head injuries for a few days until it was switched off. A tragic loss of a great bloke.
RIP Glen, you were the best mate a bloke could have!
---
Mick Patrick died after crashing either Harold Coppock's TZ750 (which was, incredibly, John Newbold's old bike) or the same sponsor's 750cc Suzuki (there is conflicting info on the bike he was riding) on the exit of Charlie's Bend at Cadwell Park, during the Motorcycle News Superbike race at the International meeting on 24th April 1977. He fell while accelerating hard at 90mph and struck the Armco barrier, bike and rider rebounding across the track. John Kearsley

Fellow racer Eric Hayes remembers: "I was the next rider along, the corner is preceded by a fast blind brow, and I only just saw the first wave of the yellow flag out of the corner of my right eye when cresting it. Shutting off, I managed to get through the gap between them. The rider behind me didn't see the flag as he was intent on my rear wheel. He took the 'easy' opportunity to pass me on the inside and hit the rider on his head, he fell and slid downhill down the track for 100 metres. The next rider along, faced with a track now full of debris, struck some of it and also fell."
Another version of events from spectator Frank Evans: "Me & five friends were in the grand stand where the accident happened. He lost the bike after squirting the power on too early, came off & when trying to stand was hit by another rider, resulting in Mick losing an arm & his helmet. The ambulance came over and a guy pulled him to the side and covered him with a bale of straw, then picked up his arm & threw it in the ambulance. The race carried on for 2-3 laps before it was stopped and it came over the speakers that he had come off but not seriously injured."
---
John Wood was a Kiwi (New Zealander) from Blenheim who arrived in Sydney in around 1979 and campaigned a TZ350 F on a very limited budget. He had a reputation for being a very hard rider and many a top name Australian rider from the era would confirm this. He almost took out the Australian 350cc Roadrace Championship in 1981 coming a close second to Gordon Barrett. He also rode a TZ750 in the Swann Series and at Bathurst.
Sadly John was killed at Surfers Paradise Raceway in 1986 while practicing for the 3hr Production Race on a Kawasaki GPZ900. Apparently, he had crashed and went to pick up his bike and move it off the the track to a safer position when another rider crashed in the same place, colliding with him. Unfortunately the other rider also received fatal injuries.
John had decided in 1986 to try production racing on a Kawasaki. His lap records at Oran Park and Amaroo Park stood for many years after his death.

(Thanks to Stephen Hopper for the updated information.)
---
John Williams has been described as one of the best British roadracers ever, being one of the only men capable of beating Barry Sheene around 1975 / 1976. John died after a crash at the 1978 Ulster GP. He regained consciousness in hospital later, believing that he had crashed at Creg-na-ba at the TT, but died shortly afterwards.
His last race was a fantastic dice between himself and Tom Herron (on TZ750s).

RIP John WiIliams.
(Thanks go to Ivor for the additional information here.)
---
Les Burgan from Hayle in England raced TZ350s in the early to mid seventies as well as doing a bit of hillclimbing from time to time. He crashed heavily at Snetterton on a TZ350 and lay in a coma for a long time before passing away.
RIP Les Burgan
(Thanks Bob Skelch for the photo and info)
---
Frank Kennedy rode TZs in the late seventies as part of the "Armoy Armada" team alongside Mervyn Robinson and Joey Dunlop. He was seriously injured while practicing for the Northwest 200 in 1979 and died due to his injuries 6 months later.
RIP Frank Kennedy
Mervyn Robinson was also a member of the unofficial race team "Armoy Armada" during the period.
Sadly, he too died in the Northwest 200, this time at the ultra high-speed Mathers Cross corner in 1980 - he was riding a TZ 351 in the 500cc race.
RIP Mervyn Robinson
( Thanks to Ivor, as well as Conor McGinn for additional information and photo.)
---
Patrick Pons was born in Paris on Christmas Eve, 1952. He started racing in 1971 and was racing in GP's by 1973. He rode 250/350 Yamaha's for French Yamaha importer Sonauto and Gauloise.
He was a regular top 6 finisher in GP's and won the 1979 750 World Championship on his TZ750 Gauloise Yamaha. He won the Daytona 200 in 1980.
During the 500 cc British GP on August 10 1980, he crashed at Becketts on the old Silverstone GP circuit on his TZ500 Yamaha and was hit by fellow Frenchman Michel Rougerie. Patrick sustained severe head injuries and died on Tuesday 12 August without ever regaining consciousness.
( Thanks go out to Graham Etheridge of Racebikepics for providing the information on Patrick Pons as well as the photo.)
---
Dave Potter was sponsored by Ted Broad in England through the late seventies. Tragically he lost his life on one of Ted's TZ750's.
This is from a bio published in 1976:
The Yorkshireman who now lives in south London has been one of Britainís most consistent privateers. He was top non-sponsored rider in last yearís Superbike Championship once again, and has been fortunate to have the backing of top sponsor Ted Broad. Dave (27) became British Champion within three years of starting racing in 1969. He raced for Vincent Davey and Willie Ryan before filling the gap with Broad left by Barry Ditchburn who had won a Kawasaki works contract. Among his best placings have been a 5th in the 1976 FIM Formula 750 Championship, a 4th at the 1975 Imola 200 and a clutch of fine endurance race performances.

Dave Potter died on 18 September 1981 at hospital of Chester, UK , 18 days after he crashed during a British Superbike Championship race held at Oulton Park on Monday 31 August 1981. On the last lap of 2nd heat of the event, he lost control while approaching the Cascades bend and crashed at 95 mph (about 150 km/h) into a guard-rail, without straw bales. Dave had already been the winner of the first heat, riding his Yamaha TZ750 tuned by Ted Broad.

[Img]http://www.motosclassicas70.com.br/F750_potter.jpg[/Img] 31 year-old from Yorkshire, Dave Potter who lived with his wife Sue and two children in Royston, Hertfordshire, UK, started his racing career in 1970 riding a BSA Gold Star. Having been the 1972 British Champion, 750 cm3 class in a Norton, Potter was 2nd in 1978 and won two times in a row in 1979 and 1980, the British MCN Superbike Championship, riding the same Yamaha for team Mitsui, and also in 1981 he led the championship before his fatal accident. He had also 9 starts in World Championship races, 500 cm3 class, scoring a 6th place in the Dutch TT at Assen in 1981.

Some on-line info about Dave can be found in these two links:
Motorsport Memorial website and Atlas F1 Bulletin Board discussion

Photos courtesy of Gerry Taylor, Dave Potter's manager.
Sources: Magazine Rombo, issues 07 September 1981 and 28 September 1981.
Picture: http://www.motosclassicas70.com
(Thanks go to Graham Etheridge of Racebikepics for permission to use the photo and Ben in England for the info. )
---
Duncan Read raced a TZ750 in the seventies in Australia, sadly he passed away while test riding a well-tuned RZ 350 from his workshop in Redfern (Sydney, Australia) one morning. He was sponsored by Ratmoto, with his signature orange/black Ratmoto helmet on top of his coffin at his funeral.
(Thanks to Louis Guinan, Duncan's former mechanic for the info.)
---
Billy Nelson was regular 250 and 350 rider on the Grand Prix scene in the late 70s/early 80s. He is described as a top privateer Yamaha rider who lost his life at Barcelona. Apparently Billy was a real nice guy who came from the Sheffield area of England

(Thanks go to Ken Goodings for the info.)
---
Pat Evans normally rode for Harris Brothers and was killed in the 750GP at Imola (Italy) in 1976 riding for GPA.
For more detailed information click here: Motorsportsmemorial website link 1
(Thanks to Mark Barker of the Motorsports Memorial website, and Pat's brother; Sean)
---
Lynton Keck of Australia was a very well known Post Classic enthusiast and racer, having been involved with the sport for many years. He owned several TZs and TRs and was happiest tinkering with them in the converted shearing shed he used as his workshop on his property near Bathurst, NSW.
Sadly, Lynton was killed in a road accident on a sidecar. Always friendly and very popular, he is sadly missed by the NSW Post Classic Racing fraternity.
Until his untimely death in 2008 Lynton was a 59 year old Merchant Banker, Financial Markets Trader, Portfolio Manager, Miner, Bike Courier - Sheep farming and Rural Blasting and had the honour of being a Life Member of the Post Classic Racing Association of NSW.
Lynton had been racing in Post Classic, Forgotten Era and Modern club racing for about 15 yrs and had won a trophy for the most number of crashes in a year of racing called the "Autumn Leaves" trophy as well as winning the PCRA 350cc championship twice (TR2B), lots of 2nds, 3rds, 4ths, 5ths, 6ths, etc. etc., many DNFs !
His bikes included - Yamaha TR2B, TR3, TZ250 C, TZ250 L, TZ250 W, TR3 / MX360 hybrid
Honda RS125, NS400R
Suzuki RG500 (road)
Other 84 Spondon TZ rolling chassis, lots of boxes of bits, spare TZ250 W rolling chassis
RIP Lynton.
---
Duncan Pemberton (nickname, Hagrid) was another well-known TZ enthusiast and racer in England. By all accounts he was a great guy, ever-helpful and a real encyclopedia of TZ information.
He was tragically killed while racing his TZ at Jehonville, Belgium in August, 2009.
RIP Duncan
(Thanks to Paul De Doncker for the photo of Duncan at Gedinne in 2007)
---
Monza 1973.
Ok, you have read all the articles and reports on the accident at Monza in 1973 in which Jarno Saarinen and Renzo Pasolini were killed and you know that it was the late Walter Villa's Benelli leaking oil that caused it all..... Right?
WRONG !! ... At least according to Roger Gowenlock, the "Sherlock Holmes" of Grand Prix motorcycle racing. Check out his remarkable new article and the reasons why he is convinced history has it all wrong!
Click here: The True Cause of the Tragic Accident at the Start of the 1973 250cc Italian GP at Monza (Roger Gowenlock.)
---
09/26/11 10:34 AM +1100
This website © Greg Bennett 2002.