Click on these links for a "hot lap" of the TZ350 and 250 Website:
---
Accu-Products / 202 Racing workshop services.
By now everyone should be familiar with Rick Merhar's Accu-Products company in Ohio and it's brilliant Accu-mix jug and Accu-flo pouring spout. (Check our reviews)
202 Racing is the workshop / service side of the company.
While these days specializing in later V-twin Yamaha racer related work Rick has been heavily involved in the vintage racing scene in America for many years, developing and maintaining many title winning TD, TR, TA and TZ racers for both himself and customers. The quality of service and technical know-how of 202 Racing is second to none, you won't find a better place to turn your bike from just another Yamaha 2 stroke roadracer into a fire breathing race winner!
Rick and his team provide a number of high quality services to owners of any Yamaha (and other brand) racer including:
Crankshaft work such as total rebuilds utilizing modern (wherever possible) components for increased durability and trueing to the finest accuracy possible. They also do crank machining work as well as cork filling of holes to maximize primary compression if required and other similar work.
Cylinder work including all types of repairs and replating in Nikasil, boring, honing, porting and installation of anti-detonation rings.
Head work such as modification of combustion chamber shapes, matching volumes, setting of squish bands, detonation repairs etc.
Gearbox maintenance including all repairs, rebuilds and shimming work to optimize performance.
Crankcases are repaired, ported, filled with epoxy to maximize gas flow within.
Forks and rear shocks are stripped, rebuilt, re-shimmed etc. for improved performance.
The 202 Racing team also have a fully equipped workshop to deal with any race-related requirement capable of handling sheet steel and aluminium as well as steel, aluminium and chrome-moly tubing. They regularly manufacture such items as swingarms, clip-ons, fairing brackets, triple clamps and other such products.
---
Problems recently solved by 202 Racing.
I recently bought a 1991 TZ250 B which had been a little neglected for a few years and needed going right over prior to racing. I had very little time in which to prepare the machine for an upcoming meeting at Wakefield Park Australia and was disappointed to say the least to find both cylinders unserviceable due to cracks between the exhaust powervalve groove and exhaust boost port.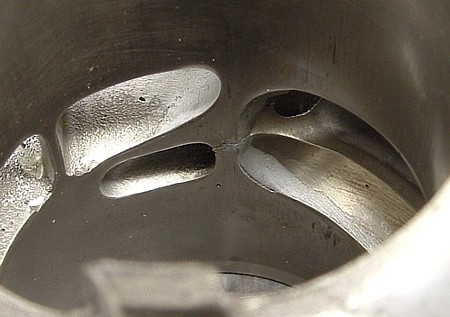 Picture: Split in TZ250B cylinder. This is apparently a common problem with these barrels, but it's no problem for 202 Racing!
Enter 202 Racing! A simple email to Rick to tell him of my dilemma saw immediate response from the company. They had a pair of reconditioned 1995 cylinders on the shelf as well as heads modified to suit the optimum piston/cylinder deck height, along with all the parts I needed for a complete top-end rebuild. 10 minutes later I had money on it's way and within 5 days the parts had arrived (USA to Australia)! Incredibly fast and efficient service from a truly remarkable organization!
The cylinders had been repaired and re-Nikasiled by 202 Racing as well as having brass anti-detonation bands installed in their top rim. Curiosity had the better of me so I got my magnifying glass out for a closer inspection of the work. I found absolutely flawless machining and workmanship and I could barely feel any edge between the ring and cylinder surface with a fingernail. These guys definitely know what they are doing when it comes to TZ cylinders!
Picture: 202 Racing's repaired and modified TZ250 B cylinder.
Each cylinder had been marked "B" or "C" to make matching of the B and C sized pistons provided a breeze and the heads had been similarly marked with "8.6cc, 0.2mm deck" so I knew exactly what I had paid for and received. Along with the parts came a set of gaskets of various thicknesses to make setting of deck heights easy. Impressive to say the least.
Picture: TZ250 heads modified by 202 Racing.
But the service provided by 202 Racing didn't stop there. Emails from me full of setup questions were replied to almost immediately by Rick no matter what time of day or night I sent them. (The man must have a computer and internet connection beside his bed!)
Setting up this new (to me) TZ was dead easy thanks to Rick Merhar and his team at 202 Racing. I have them to thank for the bike finishing in the top five (out of 23 entrants) of all four races last Sunday and running like a rocketship in every race including a race win in the last event.
For all your racebike setup requirements give 202 Racing a call on:
1-877-ACCU-MIX (in the USA only).
or 1-440-356-1202 (001 International)

or visit their website for more information.
---
03/23/08 06:36 AM +1000
This website © Greg Bennett 2002.