Click on these links for a "hot lap" of the TZ350 and 250 Website:
---
---
Click here to Return to main Aftermarket Frames page.
---
English made Machin frames were made famous by brothers Jack and Steve Machin. Steve Machin was tragically killed around 1972 somewhere in England on a race track practicing or testing. They made frames for the 125 and 250cc classes from about 1969 until Steve's untimely death. (Michel du Maine)

Picture: Geoff Leather's lovely Machin framed TD3. Geoff says he has the original DTLS front brake stored away.
---
New Zealander Ken Macintosh made his TZ frames around the mid to late seventies. As far as we know just 6 or so were ever made.
Quote from Alistair Wilton's Macintosh TZ350F article in this website: The general layout, geometry etc was that of the original F model, but with some subtle and not so subtle differences.
The theory, which also worked well in practice, was that you could directly swap out the original frame with no other changes required. Original suspension, frame, fairing, motor, seat etc could all be bolted straight in.
---
Bob built frames in Melbourne, Australia for mainly Victorian riders, to suit TZ's in the late seventies and early eighties in an effort to eliminate the front end patter of the F/G models. (Rob Hinton)
This is a replica Bimota frame made by Bob Martin in Australia in the late seventies. Chris Oldfield rode these to success in Australia around this time. The fuel tank is a cut down F model unit and (it is thought) the seat is a late 80's TZ item.
( Sadly Bob Martin died recently after a long illness. )
Click here to Return to main Aftermarket Frames page.
---
Another Dutch frame builder specialising in 125cc race frames around 1969 - 73. (Michel du Maine)
Click here to Return to main Aftermarket Frames page.
---
A French Monocoque twin shock built in 73 and raced in 74 , achieving 3rd place in the 350cc French GP in 1974 at Clermont-Ferrant 1974 with Christian Bourgeois aboard. The bike was built by the Moroco workshop for the Sonauto team (French Yamaha importer) and featured no under-motor frame rails.
It was also ridden by a young Patrick Pons in the 500 GP at Spa-Franchorchamps to a credible 4th place.
Christian Bourgeois on his way to 3rd place aboard the 350 Moroco at the French GP in 1974.
Click here to Return to main Aftermarket Frames page.
---
Edouard Morena, who has been working for many racers during the seventies and early eighties, lived in the French region of Golfe-Juan (Cote d'Azur, on the shore of Mediterranean Sea). He made a handful of frames for riders like French ace Olivier Chevalier. Edouard also worked for Team Kawasaki together with Kork Ballington.
It was on the basis of the Morena frame, that Belgian De Radigues later won some GPs in the World Championships and the PEM brand was formed (see below). ( Joris van de Wiele )
Click here to Return to main Aftermarket Frames page.
---
The Netherlands again, this time Nikko Bakker's original brand name "Niro". Nikko at this stage specialised in the 250 and 350cc classes around 1972 - 73. The shape of things to come! (Michel du Maine)
Click here to Return to main Aftermarket Frames page.
---
Noki frames were made by Norbent Keinsler in the early eighties and featured a very long swingarm and a progressive link rear suspension system. (Joris van de Wiele)
Click here to Return to main Aftermarket Frames page.
---
Rob North.
Some time in the mid seventies Rob North sat down with Don Vesco and designed a frame to lower the centre of gravity of Kenny Roberts' TZ250. The "Lowboy" chassis was the result. Legend has it that Kel Carruthers had a number of copies made by an English frame builder and sold them.
The "Lowboy" framed TZ250 featured in Classic Racer a few years back is actually one of those copies according to Rob, not an original North/Vesco Lowboy frame as claimed in the article.
A copy made for Kel Carruthers or an original North/Vesco frame? We aren't really sure! ( Brad Heiter )
Click here to Return to main Aftermarket Frames page.
---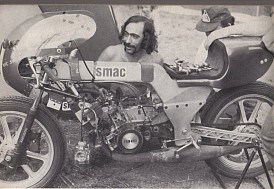 Former Kawasaki triple racer Eric Offenstadt built mainly magnesium race wheels under his company name SMAC and a number of TZ frames as well. The frame of the bike pictured is actually his first attempt at a radical new design, cast magnesium, made with the assistance of Vic Soussan the famous Franco-Australian GP competitor. Spaniard Victor Palamo acheived some credible World Championship results aboard the bike throughout 1975.
Offenstadt tried to build a competitive completely French made twin cylinder racer in the late seventies utilising his cast magnesium design along with standard style front forks. The bike was called the "HO" and was not very successful. He then gained sponsorship from BUT and built another bike around the same, original magnesium chassis with cast magnesium forks. Olivier Chevallier tested it and came away disappointed. Offenstadt then fitted a TZ350F motor to the BUT machine achieving a best World Championship result of 4th place with Herve Guilleux aboard in the French GP of 1979. Eric actually ran it in this guise in 24 hour endurance events with various different riders. Claud Fior was another endurance racer who had some pioneering ideas in the late 80s first with a TZ then a 3 cylinder Honda.
(Joris van de Wiele and Phillipe Roche )
Click here to Return to main Aftermarket Frames page.
---
Padgetts in England made their own 125cc frame around 1970. (Michel du Maine)
Click here to Return to main Aftermarket Frames page.
---
PEM frames were unusual in that they had a single shock absorber on the right hand side and none on the other. They were actually manufactured by the same guy who made the Morena frames listed above. "PEM" means "Production Edouard Morena". (Sebastien Riet)
Picture: Pierre Mazaloubeux displays his ex- Christian Estrosi PEM framed TZ750.
Another example of a PEM frame, this time from Eric Goudou.
---
Built by Nick Parravani for a customer, only the one was built. This machine has a rocker arm suspension uses MT125 wheels and forks, etc. but has a TZ125 1980/81 model engine.
(Ivor Skelton)
---
Peter MacMillan and Ron Taylor owned and ran PR Products in Sydney during the late seventies, early eighties making among other things TZ frames. Around 1977 they decided to attempt a cantilever / monoshock conversion on Ron's A model TZ. The conversion was so successful they decided to build an entirely new frame. The PR TZ was born!
The chassis was claimed to be around 2/3 of the weight of the stock E model item and had improved weight distribution to give better stability under brakes and improved maneuverability and rigidity. It also virtually eliminated the front end patter which plagued the F/G model TZs.
Later, PR Products made an attempt at constructing an all aluminium frame. It's said that this frame took just two nights to design and construct! Note the early prototype rising rate rear suspension system and exhausts exiting through the ducktail. The "tank" you see was actually a "dummy" fibreglass cover over a rough looking fabricated aluminium unit.
Reverse engine aluminium TZ 350 or 250 frame.
Peter Hinton actually rode this bike and recently provided a little more info. on it: " It was built by Graeme MacMillan of PR Products in 1981-2 and debuted in conventional (carbs at rear pipes underneath) configuration Bathurst Easter 1982. Good enough for 3rd in 250cc "B&C". Originally it had trick magnesium triple clamps from Ron Grants' factory TR500 Suzuki. The trail was all wrong and it scared the pooh out of me on Conrod. It knew how to shake its head. With TZ clamps it was much more civilized ,I can't remember the exact steering head angle ,but it was steeper than a TZ H model. We also turned the cylinder around to (a) straighten the exhaust pipes and (b) more importantly stop it from wearing a set of pistons out on Friday and then another set on Saturday. Oh yeah those G's would eat pistons when you revved 'em. We took it up to Surfers for the Qld Champs and flogged the H models of the time .We only ran it for 12 months and moved on to a 350cc triple project which was as faster than any TZ350. The only problem was lack of time and money to develop the thing. So we ran a 350cc version of what you now have."
Click here to Return to main Aftermarket Frames page.
---
Riemanoc from the Netherlands made their groundbreaking TR2 and TZ 350 monocoque aluminium frames between 1971 and 1976. The one pictured was ridden by such riders as Theo Bult, Will Hartog and Wietse Veensta in the era but none of them liked it apparently. In the beginning it was fitted with a bored out (354cc) TR2 motor, later changing to a TR3 unit. (Michel du Maine)
Click here to Return to main Aftermarket Frames page.
---
French made ROC frames were made especially for the 500cc class around 1980. (Michel du Maine)
Click here to Return to main Aftermarket Frames page.
---
Bill Ryde from England made his own alloy TZ350 frame in 1986. No further details are available at this time. (Dean Ryde)
---
Nigel Hill in the UK produced around three of these unusually designed frame and suspension systems in or around 1980. The frame is a trellis design with the engine as a stressed member. The front forks look like standard 40mm telescopic items but the work is done by connecting rods to a monoshock under the tank. The reason for this set up design is to make the bike more stable under braking (anti dive). The rear end is standard monoshock.
(Dave Gilbert)
---
The Scitsu Yamaha chassis story actually begins with creator Tony Dawson (inventor of the Australite wheel) making a couple of frames to suit the AS1 125cc twin in the early seventies by bolting a pair of carefully shaped aluminium plates together. Later, in the early eighties he built a couple more frames for the TZ350.
Scitsu triple frame owned by Paul Allender was actually made by Spondon Engineering around 1980. Two were also made Ron Williams of Maxton, one a twin shock and the other a cantilever monoshock. (Paul Allender)
Click here to Return to main Aftermarket Frames page.
---
Colin Seeley in England made frames to suit Yamaha twins from the late sixties and into the seventies. (Michel du Maine)

Click here to Return to main Aftermarket Frames page.
---
Shemey from England made their own 125cc chassis around 1971. (Michel du Maine)
Click here to Return to main Aftermarket Frames page.
---
Terry Shepherd made these intriguing frames for TZs. The chassis, wheels, swingarm, footrests, pedals and triple clamps were all designed by Terry and cast in aluminium. He also made the brake discs in cast-iron and all the fibreglass, too. There were 42 of these made and also three cast entirely in Magnesium, which we used in GPs in 1978. The main beam carried 7 litres of fuel and it was arranged so that the top tank drained first, thus keeping the weight as low as possible. When they first used this layout at the Ulster GP in '77 with Tom Herron riding, he knocked no less than 10.8secs off the 250 lap record, a time which stood until 1987.
Examples went all over Europe , South Africa (Jon Ekerold), Canada and the USA. Terry surmises that the frame pictured in the pits was probably one of the ones bought by Aussie John Dodds when he lived and raced in Germany. The B&W shot shows the main beam which held fuel.
( Coeno van Houten, Joris van de Wiele, Terry Sheperd )
---
These frames were made by Antonio Cobas in Spain. (Joris van de Wiele)
(Thanks to Edy for the photo of Angel Nieto)
---
Solo were a German company who made gardening machines and chainsaws as well as mopeds for a while in the late 70's and early 80's. They commissioned Bimota to make a frame suitable to mount a TZ engine in for Jon Ekerold to compete in the 1981 350cc World Championship.
(Michel du Maine)
---
French motorcycle engineer Claude Fior made radical custom designed front ends for TZ250s and 350s before turning his hand to manufacture an aluminium frame for the Sonauto TZ500 around 1980/81 (Michel du Maine and Phillipe Roche)
Click here to Return to main Aftermarket Frames page.
---
Barry Hart was an English fabricator who built Sparton frames amongst other motorcycle racing accessories. He began by building a frame to house a 350 / 500cc triple utilising TZ250 barrels along with frames to suit Yamaha 125cc twins. He later moved on to attempting to build 500 and 750cc racers in the hope of being competitive in the 500GP and Formula 750 classes with limited success. One particular 500cc Suzuki square four racer built by Sparton gained considerable fame as the bike Barry Sheene rode in the David Essex movie "Silver Dream Racer." (Michel du Maine and Murray Dickinson)
Click here to Return to main Aftermarket Frames page.
---
Spondon made TZ frames to suit 125/250/350/500/750 models from 1971 on. They also made the frame for one of the Scitsu triple cylinder TZs.
Pictured is an early TZ350 model. (Joris van de Wiele.)
(Michel du Maine)
Click here to Return to main Aftermarket Frames page.
---
Noted former South African TZ racer Tommy Crawford built at least one reverse cylinder TZ250 around 1980 for fellow countryman Dudley Cramond. The frame was especially unusual in that it featured initially twin S&W shocks, going against the monoshock fashion of the time, though shortly after it was converted to accept a Yamaha style De-Carbon single shock. Another unusual aspect of it was the huge, 68mm diameter centre "spine" carefully cut, bent and welded from 20 gauge chrome-moly steel running all the way from the adjustable rake steering head to swingarm mounts. The original T-C.single backbone chassis debuted at Dayton in 1978 with Yamaha power and the exhausts exiting directly out the rear through a RG 500 seat, but in 1984 he returned with Rotax 250 cc power, another six gallon belly fuel tank and the unique hydroformed pipes.
Tom is an ex-patriot South African and former 50cc GP Champion was also owner of several cycle
shops in the Jo-Berg area, prior to emigrating to Southern California in the late '70s. Now a grandfather, residing in Hemet, California and the proprietor of T-C Exhausts and Engineering ( www.tcexhausts.com )
he does custom frames, exhaust and other prototyping for several companies such as Bassani Exhausts, Motorsport Marketing Group, Yamaha and KTM.
Michael Kilgore writes: "I will relate that on the first visit to Daytona with the under-belly fuel cell, the AMA Officials (scrutineers) did not believe the cell to be safe. They couldn't imagine how a six gallon fuel tank that was bolted to the underside of the chassis, lowering the bikes C/G radically and unable to touch the ground, no matter what the bikes attitude, could be as safe as a thin aluminum skinned potential Roman-candle being attached to the top of the chassis by rubber grommets. The bike was so stable that, on standing starts, it just spun the rear tire and left. No slipping the clutch or wheely nonsense. It took the advice of long-time G.P.Cycle guru/engineer, Kevin Cameron, to explain the physics of the design to them. One must remember that, in those days, most of the American cycle officials were relatively-old men who came from "real" racing....dirt flat tracks and their idea of a safety/rule-book inspection was to determine if the clip-ons were tight. The original chrome-moly 3" single-backbone chassis, bent at Bassani Manufacturing, www.bassani.com , now hangs from the ceiling at T-C's shop. ....... His long-time friend and protege, the late Danny "The Diver" Cashen, won several West Coast sportsman G.P races and a championship with 400 Yamaha power, reversed cylinder arrangement, with a snow mobile/jet ski vacuum-operated fuel pump tapped into an intake port to pull the fuel up to the back bone,
where it gravity fed the two 36mm Mikunis, and hydro-formed pipes exiting out the RG500 seat. Pretty novel for the late '70s and early '80s. ......Michael Kilgore"
(John Simms, Michael Kilgore and Bob Crossman)
( Does anyone have a clear shot of the TC racer as featured in "Motorcycle Racing" magazine? )
Click here to Return to main Aftermarket Frames page.
---
Togashi frames were made in Japan and handful made it to Europe in the very early eighties. The one pictured was ridden by Dutch rider Dirk Verweij in 81 / 82 with a TZ 250 H/J engine fitted and it is currently under restoration in The Netherlands. (Michel du Maine)
Click here to Return to main Aftermarket Frames page.
---
Unusually named Swiss frame, the Tscha-Ru-Ya was designed specifically to house the Yamaha 125cc twin in 1972. (Michel du Maine)
Click here to Return to main Aftermarket Frames page.
---
John Caffrey in Wales built these Vendetta frames in the 70s.
(Andrew Farrer)
---
Around 1970 an American performance engineering company named Vantech produced an unknown number of frames to suit the AS-1 / 2 based GYT kitted racer.
Van Tech also made a lot of trick front ends in the early '70s, some of them similar to the Greeves springer fork. They generally recommended using Girling shocks with very light spring rates. Complete Ceriani forks could be adapted to fit easily into their frames . ( Coeno van Houten )
Click here to Return to main Aftermarket Frames page.
---
Even the Soviet-Russians got in on the act, producing a TZ250/350 engined racer named the Vihur around 1977. It included special Vihur made components such as the aluminium fuel tank, wheels, swingarm, brake calipers, forks etc. The bike was occasionally fitted with a Rotax engine and was for this reason capable of having it's rear brake left hand side mounted. The company still exists as a go-karts builder in Estonia in the capitol city, Tallinn.
VIHUR was well known in the Eastern Block for the magnesium wheels they made and sold, more so than complete motorcycles.
(Michel du Maine and Martijn Stehouwer )
Click here to Return to main Aftermarket Frames page.
---
Built by the dirt track frame builder Dick Washer of "Wasco Frames" in Washington state, USA.
It is thought that this mono-shock conversion was done in 76 or 77 and used a YZ mono-shock. The bike is an original 74 and raced at Daytona from 74 through 83.
(Bob Allen)
---
East German frames from the eighties. Just four frames were made in total. (Refer "Junghans" frames section for information.)
---
Yamaco
The Yamaco was made famous by among others, Rod Gould in the late sixties. It was essentially a TD1-B engine with Yamaha brakes fitted into a better handling (than a TD1-B) Bultaco 125 or 250 rolling chassis. The engine including carburettors and exhaust, the wheels with the brakes and also the body are original YAMAHA TD1B. The frame, front forks, rear shocks, tank and seat are original BULTACO TSS 125c (1961). This particular bike was built in Indonesia and exported in the late sixties to Holland. It was stored for more then 30 years and is currently under restoration.
Does anyone have any more information about this particular machine? Maybe something about the Indonesian rider A. Voogt?
Click here to Return to main Aftermarket Frames page.
---
Yapol frames were made in Germany to suit the TZ350 from about 1973 to 1979
Early versions were built by George Pohlmann and featured a single swingarm mounted shock on just one side. (Michel du Maine)
Click here to Return to main Aftermarket Frames page.
---
No information available.
Picture from "Jon".
---
07/15/12 08:53 AM +1100
This website © Greg Bennett 2002.